The UK Open Memory Championships this year will be incorporated into a new international competition, the Pan European Memory Championships.  With a prize fund of £2,000 (and other prizes) it is being sponsored by Brian Clivaz at the prestigious Devonshire Club, a new private members club close to London's Liverpool Street Station.  Brian has long been a supporter of the sport, initially for the WMC in Simpsons-on-the-Strand, and then as the host of the UK Open for the past few years at the L'Escargot Restaurant in Soho.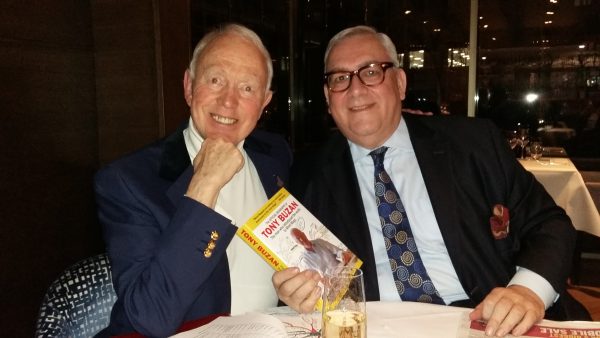 Tony Buzan with Brian Clivaz, owner of the Devonshire Club and sponsor of the Pan European and UK Open Memory Championships.
The Pan European will give competitors throughout Europe a new trophy to compete for and a new opportunity to increase their World Rankings in advance of the 26th World Memory Championships in Shenzhen, China in early December. There is a rumour going round  that  a certain very highly ranked competitor might be making a comeback and prove that age has nothing to do with memory. Watch this space!