The 2018 European Open will take place earlier than usual this year on the 11th and 12th of June in  London. We have been working hard in the UK to grow a new generation of memory competitors by starting where memory techniques can do the most good – in schools. As a result we have a dramatically increased entry, the Championship has been divided over two venues this year – for the simple reason that, with 98 junior competitors taking part,  we have out grown the available space.
The junior competitors will be the Abercorn School in London's Marylebone High St , whilst the adult and senior competitors will be in our traditional venue of L'Escargot Restaurant in London's Greek St, Soho.
If wish to compete for titles, medals , trophies and certificates, please register as promptly as possible by CLICKING HERE. The Championships is open to everyone and will be conducted under WMSC rules for a standard ten discipline, two-day event.  Sponsors are the new Tony Buzan organisation, Tony Buzan International. Eight times World Memory Champion, and current Senior World Champion, Dominic O'Brien will be competing which will be a great inspiration to other competitors.
We would like to thank Andrea Greystoke, Headmistress of Abercorn School for her support in encouraging her pupils to learn memory texchniques and to compete is the Schools division of the UK Open.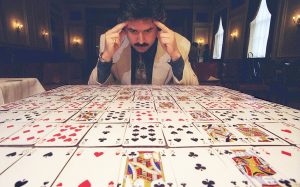 The UK Open first started in 2007 with World Champion Ben Pridmore. A decade later the competition still attracts competitors who are looking for an opportunity to increase their World Ranking score and to improve on their personal bests. This year we are pleased to welcome a number of new Junior competitors who have been training hard, plus some tony Buzan Licenced Instructors, who train Mental Literacy Skills including Memory and Mind Mapping.
The competition will be personally supervised by WMC Chief Arbiter Phil Chambers, who has set the papers for many of the World Memory Championships around the world.
It is possible to compete in languages other than English. If you want to compete in another language, please let the organisers know at least four weeks in advance.
There will be prizes for the top achievers and full details of them will be announced shortly.
Please note:  Competitors should bring their own playing cards as these will not be provided.
STOP PRESS:   We welcome Attshan Ali Abbasi  as a competitor, who is travelling from Pakistan to participate in the competition. 
HOTELS NEARBY L'Escargot – The Z Hotel Soho 17 Moor St, Soho, London W1D 5AP   thezhotels.com    020 3551 3701
The Covent Garden Guest House – 9 Tower Ct, London WC2H 9NU    http://covent-garden-guesthouse.londonhotelsgb.com/en/
Mimi's Hotel Soho  56-57 Frith Street, Soho, London W1D 3JG  (Entrance via Bateman Street) info@mimishotelsoho.com    +44 (0) 20 8017 9100  
info@mimishotelsoho.com