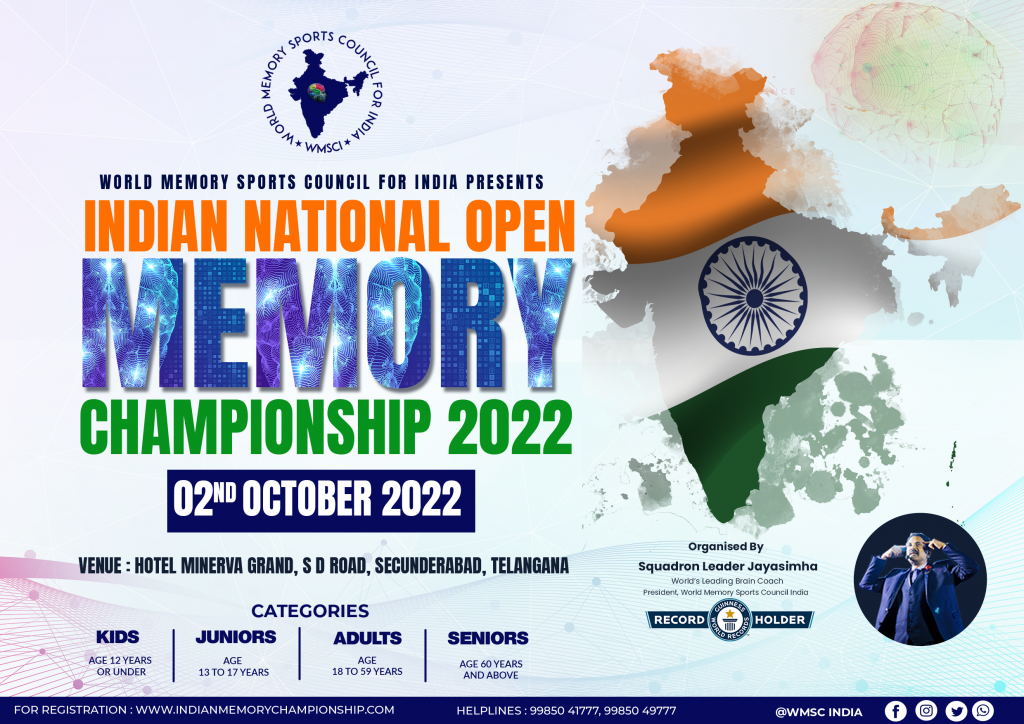 "13th Indian National Open Memory Championships-2022"
For All the Memory athletes of India and across the Globe
Squadron Leader Jayasimha, President World Memory Sports Council for India is very happy to Announce India's Greatest Test of Memory –
The Battle of Brains 2022.
This is Going to be a national level Memory competition and Memory Athletes, students, professionals, Adults from all parts of India and abroad are welcome to participate in this competition.
Date : 02 October 2022
Venue : Hotel Minerva Grand, S D Road, Secunderabad, Telangana
Categories :
Kids :     Age 12 years or under
Junior : Age 13 to 17 years
Adults : Age 18 to 59 years
Senior : Age 60 years and above
Disciplines :  
There will be overall 10 disciplines for winning the Memory Championships:
Memorising Names and Faces
Memorising Binary Numbers
Memorising Random Numbers
Memorising Abstract Images
Memorising Speed Numbers
Memorising Historic / Future Dates
Memorising Random Playing Cards
Memorising Random Words
Memorising Spoken Numbers
Memorising Speed Cards
 There will be marks allotted for each discipline. The Memory Athlete with the highest overall score of these 10 disciplines will be declared as the Indian Memory Champion.
Championship Highlights : 
The Winner of National Memory Championship-2022 will be awarded the title, "Indian National Memory Champion – 2022".
There is a prize money of Rs 2,10,000/- allocated for the overall top three winners. The Overall topper will be awarded a cash prize of Rs 50,000/-, the First Runner up would get Rs 25,000/- and the Second Runner up would get Rs 15,000/-. The winners from Kids, Junior, Adult and Senior categories are also being awarded Cash prizes, trophies and medals.
Registration Fee :  Rs. 6000/-  + Taxes as applicable
For Registration : (Click the Link Below)
Payment Link : https://rzp.io/l/NMC2022Registration
Any Queries regarding participation, training and any other assistance, contact Squadron Leader Jayasimha at +919866018989 or mail us at  sqnldrjayasimha@gmail.com or visit us at ww.jayasimha.in
 –
Squadron Leader Jayasimha
President World Memory Sports Council for India
Multiple Guinness World Record Holder
Jayasimha Mind Education
98660 18989 / 9985041777/ 9985049777
visionjay@gmail.com
www.jayasimha.in
www.nationalmemorycouncilofindia.com