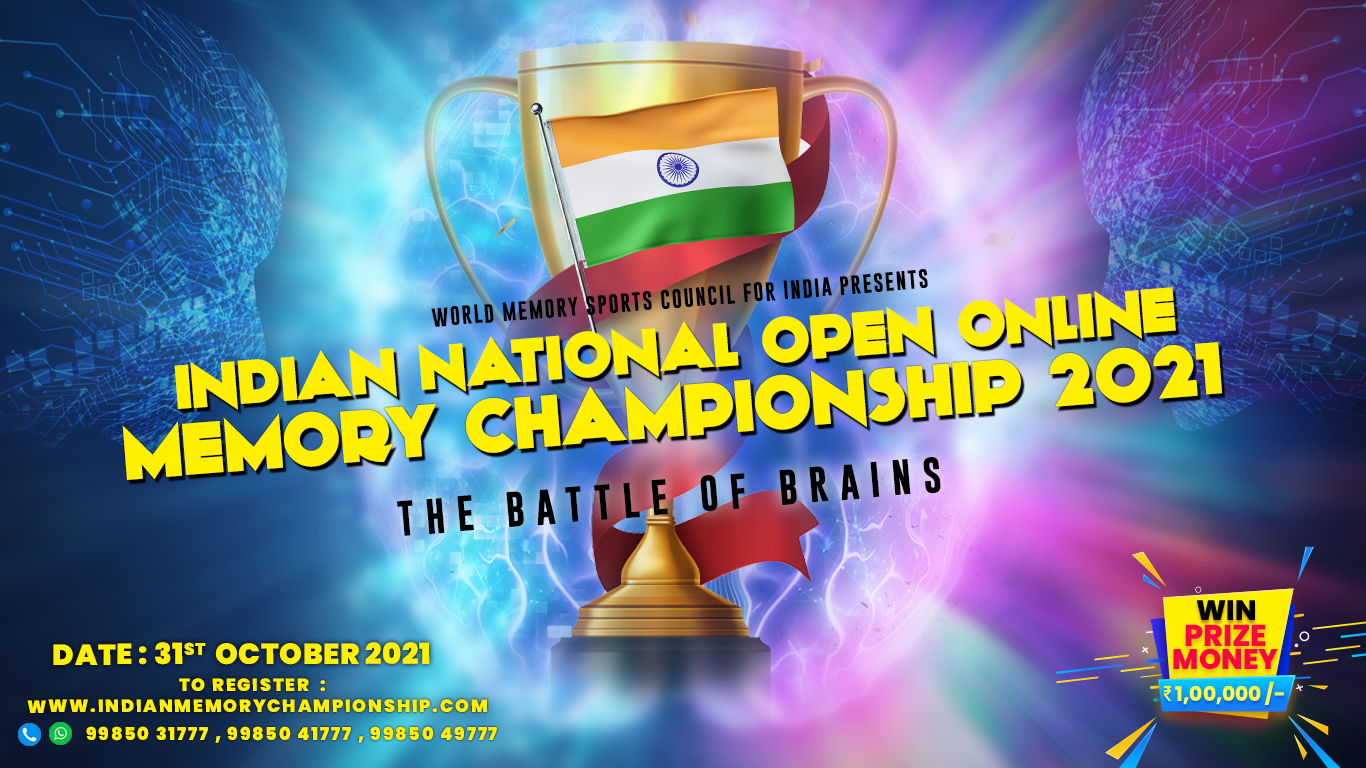 The Battle of Brains
31st October 2021, Sunday
Squadron Leader Jayasimha, President World Memory Sports Council for India announces the Indian National Online Open Memory Championship schedule.
Online Memory Championship :
Participate from the comfort of your home and showcase India's brain power to the World.
Four Categories – Kids (up to 12 years), Juniors (13 to 17 years), Adults (18 to 59 years), Seniors (60 years and above).
 Five Memory Disciplines – Memorising Random Words, Memorising Random Numbers, Memorising Binary Numbers, Memorising Playing Cards and Memorising Historical Years.
 Win "Indian National Memory Champion 2021" title, Rs 1,00,000/- prize fund, and many more trophies and medals.
All students, teachers, parents, professionals, adults, senior citizens and memory athletes from India and abroad can participate.
For further details, Contact  +919985041777 or +919985031777 or visit ww.indianmemorychampionship.com or ww.jayasimha.in or mail to visionjay@gmail.com
Please click the below link to register for the Memory Championships
For Indian Citizens/ Indian Memory Athletes 
Indian Memory Championship 2021 Examination Registration
Indian Registration  Link : https://rzp.io/l/R0cvZy4
Ultimate Guide to Crack Indian Memory Championship 2021 (3 in 1 pack)
(In depth Memory Championship Digital Video Course + 6 months practice Membership + Preparation Action Plan) 
Video Course Registration Link : https://rzp.io/l/gUCtVXBX 
For Foreign Citizens / International Memory Athletes 
Indian Memory Championship 2021 Examination Registration
International Registration Link 1 : https://gum.co/RwKlV
or
 Registration Link 2 : https://bit.ly/3vVFcwJIMC2021Registration
Ultimate Guide to Crack Indian Memory Championship 2021 (3 in 1 pack)
(In depth Memory Championship Digital Video Course + 6 months practice Membership + Preparation Action Plan)
International Registration Link  : https://bit.ly/3dEoQ5pUltimateGuide3in1Pack