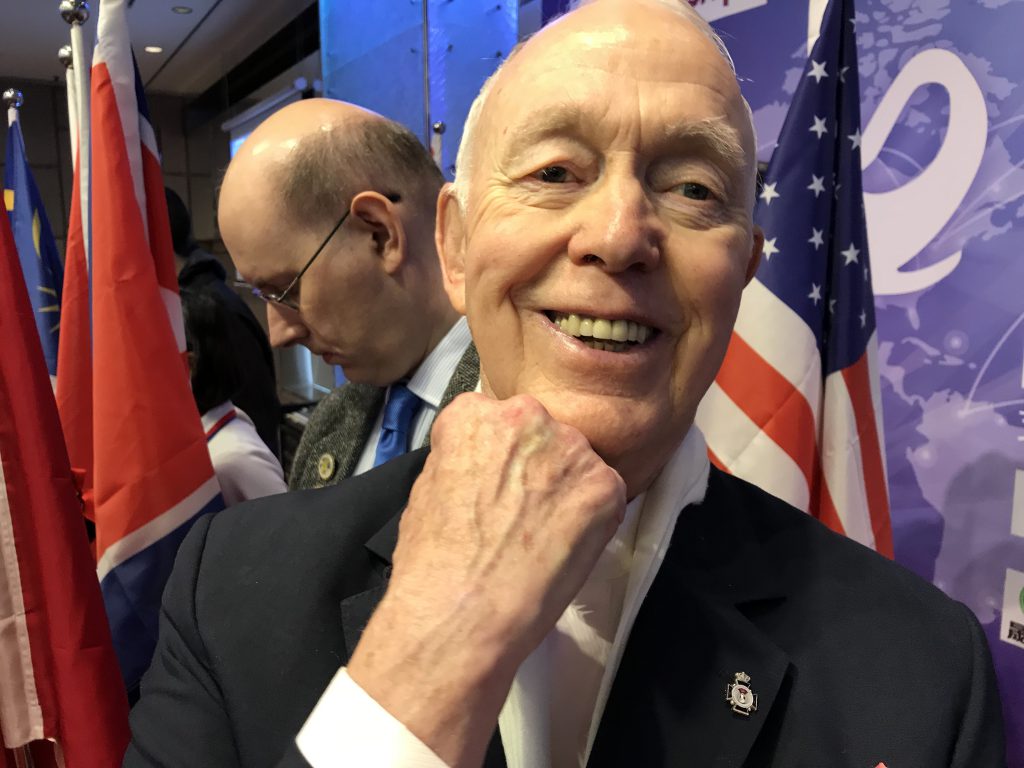 Dear Friends and Colleagues
Tony is the most vibrantly alive person I know! I say this in the present tense because, at the Vancouver Learning Centre, where I continue to work as Senior Psychologist and Founder, Mind Maps are everywhere. I feel Tony's energy and intelligence whenever I pick up my colored pens to Mind Map.
I met Tony more than 3 decades ago at a conference where we were among the speakers. We connected instantly and I invited him to come to Vancouver, Canada to be one of the speakers and teachers at an event called "Towards The Quantum Mind: First Step in Action" for a new non-profit organization I had founded called, The International Foundation of Learning. It was a Leaders Teaching Leaders Project and Tony was magnificent. At that time, Tony accepted my nomination to become one of the honorary patrons of the IFL among other very prestigious people like Dr. Doug Kenny, President of the University of British Columbia and The Honorable Nathan Nemetz, Chief Justice of our province and Luis Machado, the world's first Minister of State for the Development of Intelligence from Venezuela who had founded the Harvard Project on improving Intelligence for a whole nation. As usual, Tony was magnificent helping us to set up an international outpost in Geneva, etc.
We were speaking together many times at conferences and Tony was the Lead Teacher for our Leadership Development Organization, Creative Learning International in the "Masters Course for Creative Thinking" we put on in Vancouver.
Tony grew up in Vancouver. He was among the first, or perhaps the first student presidents of the newly founded Simon Fraser University (his alma mater). I met his mother, Jean, who lived in a community close to Vancouver and Tony and I hosted both her 80th birthday on a yacht in Vancouver Harbour in 1986, when the fireworks for our Expo 86 culminated the event (just for her she thought) and her 90th in a beautiful setting where we had a program that celebrated each decade of her life. Tony, of course, handling the first 2 decades had everyone in stitches.
More recently, our conversations were just as warm when they took place on the telephone, from the many places he continued to teach to the very end. Our last conversation was in October 2018, when I described the new initiative my husband Dr. Desmond Berghofer and I were undertaking in the partnership with the IFL called The Visioneers International Network Web of Good Work featuring a Virtual Expo of the good work being done in the world by ordinary people who are accomplishing extraordinary good work. I thought again that Tony was the perfect example of lifetime achiever in this field and I nominated him for a 2nd Tenure as Honorary IFL patron and Advisor to the Visioneers International Network Web of Good Work project, the IFL's current project.
Tony said YES… YES and YES!
Tony invited me to write an article for Synapsia, which I did.
When I called back early in 2019 to report on IFL's Visioneers Council of Wisdom in Santa Barbara, California, USA event with next steps, he didn't return my call for the first time, thinking he was out of the country. I let it go and got absorbed in the work in front of me until, in May, my secretary reported his death to my husband a month earlier, saying, 'wasn't he a friend?'
On that day, I had just had back surgery and Desmond kept it from me for 4 days until he felt I was strong enough to hear it.
It blew me out of the water.
I actually couldn't imagine him gone for days. He was so much part of the fabric of the life I had led for decades.
I was the psychologist who, at his request early in our relationship, measured his Creative Intelligence.
Using the Torrence Test of Creativity, I administered the test to both Tony and his Mother Jean. Tony's results were so exceptional (at the 100th percentile plus) that I thought I was doing something wrong in the calculation so I sent the protocols to a colleague, the expert in the field of giftedness and creativity. She said, "Tony's performance was exceptional in all respects … In my experience (since 1964), I have never seen another like it … There are no adjectives that would describe his skills adequately." My actual letter to Tony from my archives is attached and Jean did very well too.
Since then, all of us who know Tony are witness to the extraordinary real life outcome those test results of his genius predicted.
Some of you, like me, have stories to tell about Tony that others may not know and, in my opinion, they should be collected for people to read and continue to be inspired.
In the meantime, we have nominated Tony, our Honorary IFL Patron, for the Visioneers International Network – Heroes and Heroines of Humanity Award.
More about this Award when it is presented at a prestigious United Nations Event in 2020, a 75th anniversary celebration year (Visioneers website link below in the signature).
For me, after 4 decades of work with the thousands of exceptional children and youth, both challenged in their learning and gifted, we have taught to Mind Map and use Tony's memory strategies Tony lives on everytime I see the current crop of students Mind Mapping or look up at the framed beautiful poster he sent us below to inspire the children, but especially when I pick up my own colored pens to Mind Map.
Still the hole in my heart remains, perhaps you can fill it by telling your "Tony" stories as a way to encourage the book I spoke about above happening…
It would be a special privilege to hear from you and to have these stories posted to celebrate Tony on the permanent virtual record of a global platform as the exceptional human he was. May his spirit live long.
Sincerely,
Gerri
Dr. Geraldine Schwartz PhD
President, International Foundation of Learning (www.internationalfoundationoflearning.com)
Senior Psychologist & Founder, Vancouver Learning Centre (www.vancouverlearningcentre.com)
Co-Founder, Visioneers International Network Web of Good Work (www.thevisioneers.ca)