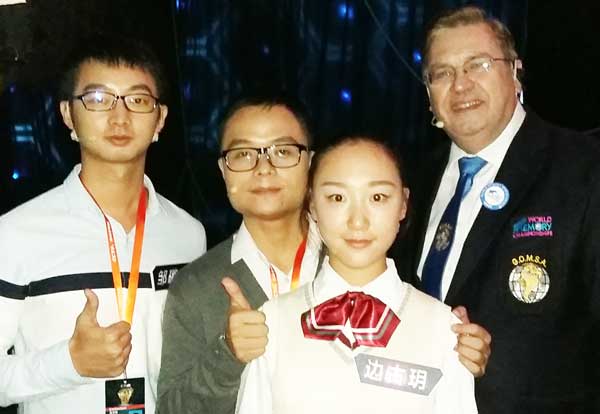 One of the most popular programmes on Central China Television Channel One is "Beyond the Edge" where contestants are challenged to perform impossible feats.   Last year they invited a group of contestants who had been studying a "Middle Brain" method of memorisation – a form of photographic memory, to memorise a deck of cards. Unfortunately, despite numerous attempts, not one of them managed to remember a complete deck – never mind a record time!
This year they turned to the World Memory Sports Council to provide official arbiters for a new speed cards record attempt and worked with Asia Pacific President David Zhang to identify competitors, plus WMSC General Secretary Chris Day and Guo Chuanwei, Executive President of the 26th World Memory Championships organising committee, who travelled to Beijing and the largest studio in China at Dachang Movie Town, to be the arbiters.
The challenge facing the three competitors was to beat the current fastest time for memorising a pack of shuffled cards currently held by Simon Reinhard in the South German Championships in 2015 where he achieved a score of 20.44 seconds.
In front of a television audience of 100 million,  20 year old Zou Lujian achieved a time of 17.593 seconds making it the fastest officially recorded time in the world.  To turn this achievement into an official WMSC World Record Zou Lujian is invited to repeat his achievement in the 26th World Memory Championships and compete with competitors from around the world.  His new time will certainly spur on other competitors and make it an exciting finale to this year's event.