The 3rd Malaysia Memory Championships, 2018
Date                : 10th & 11th November 2018
Time               : 9.00am – 6.00pm
Venue              : Heriot-Watt University, Putrajaya, Malaysia
Standard          : WMSC National Standard (10 Disciplines)
Participants     : Malaysian and PR of Malaysia
Host                 : Malaysia Memory Sports Organization (MMSO)
Co-organizers : Power Memory, Brilliance Brain Enterprise, Smart Brain Consulting and NH Memory Training Centre.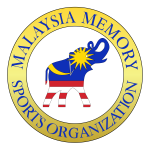 The Organizing committee of Malaysia Memory Sports Organization (MMSO) is pleased to announce that the 3rd Malaysia Memory Championships will be held on 10 & 11 November 2018, at Heriot-Watt University Malaysia Campus, Putrajaya. This Championships endorsed by World Memory Sports Council, London (WMSC) and it's open to all Malaysian and PR of Malaysia.
The Championship will be run according to World Memory Sports Council (WMSC) – National Standard of Memory Championships, which is to compete in 10 disciplines.
There are 4 different age categories, which are Kids, Juniors, Adults, and Seniors.
It is also a qualifying round for Malaysia's memory athletes who are planning to participate in the 27th World Memory Championships, 2018 in the wonderful city, Hong Kong.
We are honored to have WMSC Level Two Arbiter, Mr. Teo Kim Foo to be our Chief Arbiter for this Championship, followed by the senior team of arbiters Mr. Wong Wan Jiun (GMM), Mr. Nigell Hoh, Mr. Ng Kiah Tong, Ms. Moh Ee Ching, and Mr. Alexander Lee Ik Haur.
We are proud to have Heriot-Watt University, Malaysia Campus in Putrajaya to be our venue sponsor together with famous Restaurant Mohd Chan Malaysia, Scand.a Projector Phone, Stabilo and Dreamic Edu being the partners. Medals and certificates will be presented to winners of all disciplines and trophies will be awarded to top 3 winners of overall categories.
We are looking forward to have more great records happen in the 3rd  Malaysia Memory Championship, 2018.
Cash prizes for the winners from each age group would be as below:
Kids, Juniors, Adults and Senior Categories*
1st       RM500 Cash + Medal + Prizes
2nd      RM300 Cash + Medal + Prizes
3rd       RM200 Cash + Medal + Prizes
4th       RM150 Cash + Medal + Prizes
5th       RM100 Cash + Medal + Prizes
*Minimum number of six (6) participants required in each category to consider the cash prizes.
For enquiry please email us at mmso.hq@gmail.com
Website: www.malaysiamemorysports-org.com