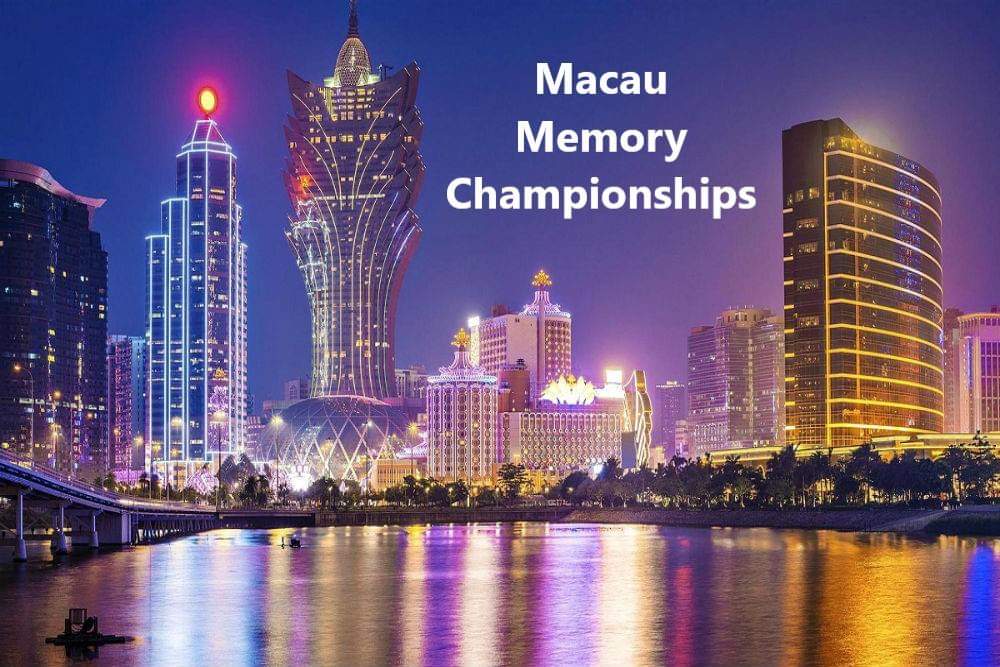 The Macau Memory Association is pleased to announce that the "1st Macau Open Memory Championships" and the "28th World Memory Championships Qualifying Round for Macau" is now open! This 2-day great event will be taken place in City University of Macau on 2nd & 3rd November 2019. Details are as follows:

** The top 3 Chinese competitors in the Open Division will get into the final directly (World Memory Championships 2019). **

World Memory Sports Council – National Standard:
5 mins Random Words
5 mins Binary Numbers
5 mins Names & Faces
15 mins Random Numbers
5 mins Speed Numbers (2 trials)
5 mins Historic & Future Dates
10 mins Playing Cards
15 mins Abstract Images
100 sec & 300 sec Spoken Numbers
5 mins Speed Cards (2 trials)

Participants​​​: ​Memory athletes all over the world

Age group:
Kids (12 years old or below)
Juniors (13 – 17 years old)
Adults (18 – 59 years old)
Seniors (60 years old or above)

** Cash prizes, trophies and medals will be announced in October 2019! **

Venue​​​​:​ City University of Macau
​​​​​Avenida Padre Tomás Pereira Taipa, Macau.
https://www.cityu.edu.mo/en/

Registration fee​​:​ UK£75 / RMB¥680 / HK$730

Online Registration is available at:
http://macaumemory2019.hk.mikecrm.com/W4BIvDA
Registration Deadline​​:​ 12th October 2019

Payment method:​
Once your online registration is done, participants will receive the payment notification from email within 7 days. Registration will be confirmed after the payment is settled. (Please ensure that your email provided is correct!)

Contact us:
Telephone​:​ +853 2840 3554
WhatsApp: +853 6294 2435
WeChat ID: MacauMMC2019
Email​​:​macaumemorysports@gmail.com

We look forward to your participation in this grand occasion!
Q&A:
Travel information:
Passport / Visa (Website: https://www.macaotourism.gov.mo/en/travelessential/before-you-travel/entry-requirements)
2a) By Air:
Macau International Airport (Website: http://www.macau-airport.com/en)
2b) By Sea:
Taipa Ferry Terminal (Website: https://www.macaotourism.gov.mo/en/travelessential/before-you-travel/travelling-to-macao)
3a) Transports from the airport: 10 mins taxi (without any traffic jam)
3b) Transports from the ferry terminal: 8 mins taxi (without any traffic jam)

Hotel information:
1) Regency Art Hotel Macau (Website: http://www.regencyarthotel.com.mo/)
2) Altira Macau (Website: https://altiramacau.com/en)
3) Inn Hotel Macau (Website: https://www.innhotel.com/)