INVEST IN YOUR BRAIN … JOIN THE GLOBAL MOVEMENT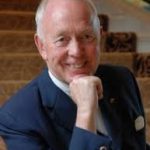 On his 76th birthday, Tony Buzan, UK originator of the global phenomenon that is Mind Mapping launches a new online Academy to pursue the massive goal of Global Mental Literacy within next five years.
Supporting his goal of providing everyone in the world "the operating manual for your brain", Tony Buzan today launches his new online World Brain Academy with his personally selected team of Brain Stars from around the world.
This portal will encourage people to follow their own independently designed learning pathway to develop their brain power to the maximum whilst being supported by a faculty of world renowned experts and champions in their field from Brain Nutrition Guru, Prof Michael Crawford to Eight Times World Memory Champion, Dominic O'Brien (full list on website)
"The marvelously inventive Human brain must be given priority attention by Nutritionists and Politicians alike"  ….. Prof Michael Crawford
A series of high profile webinars, video conferences and courses are due to be released over the next few months for members of the World Brain Academy in combination with downloadable tools, workbooks, interactive exercises and chat forum sessions to support thought leaders in their countries to acquire and share the skills as widely as they can.
Themes for the initial learning sessions include:
·         How to pass any exam

·         Learning how to learn

·         Staving off Dementia

·         Mind Mapping

·         Superpower Memory

·         Speed & Range Reading

·         Critical Thinking

·         Chess as a metaphor for Learning

·         Creativity

·         Leadership

·         Brain Nutrition

·         Problem Solving
To become part of this global movement, register at www.WorldBrainAcademy.com
WORLD MIND MAPPING DAY
This auspicious day is also World Mind Map Day, and former World Mind Mapping Champion, Liu Yan , has produced a stupendous celebratory Mind Map ( published here for the first time) to mark the occasion.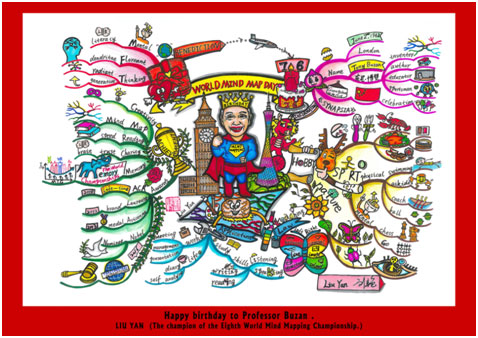 I would love to see your Mind Maps on display on Saturday the 2nd of June 2018 – please send them to enquiries@buzanworld or circulate them widely on social media and tag Tony directly on @Tony_Buzan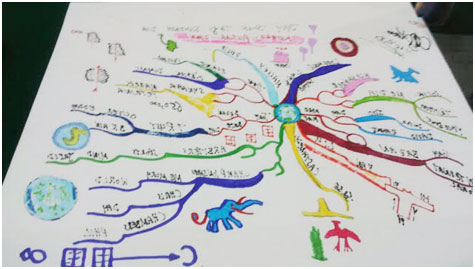 Tony is currently with me in Guangzhou, China, where we were together invited to visit the Asia / Pacific HQ of The World Memory Sports Council, The World Memory Championships, Tony Buzan International Ltd and The Guild of Mind Sports Arbiters.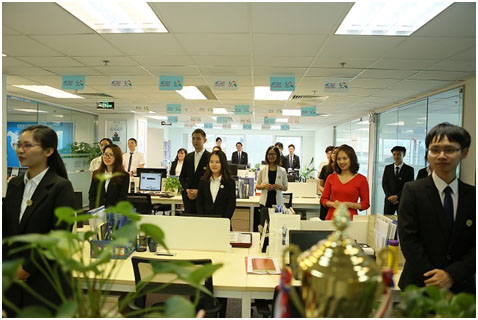 Our generous host, Dr Guo Chuanwei, took this opportunity to confer with us and with Asia / Pacific President David Zhang, on the forthcoming China National Memory Sports Championship, the second largest and most important event in the Memory Sports calendar, apart from the World Memory Championship itself.
Decisions , soon to be released, were also made concerning the 2018 World Mind Mapping Championship and the 27th World Memory Championship.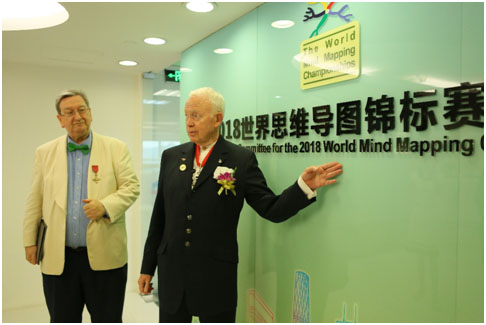 To finish ,  let me remind you about two important upcoming events….the UK Pan European Open Memory Championship , with a record 98 entries and growing is on the 11th and 12th of June at the L'Escargot Restaurant in Central London.

Also our London Celebration of the Mind Conference set for late June/ early July where Tony will be training in Mind Mapping alongside his Brain Stars Dominic O'Brien (8X World Memory Champion), Chief Arbiter Phil Chambers (Speed Reading) and Elaine Colliar (5 X World Mind Mapping Champion)
AS A GIFT FROM TONY!!
Anyone that books a place on the course around his birthday – the 2nd and 3rd of June will still qualify for the Early Bird Discount of 25% off!
http://www.tonybuzan.com/training/
Looking forward to seeing all of you at both our events! I hope you will enjoy the photographic record of our trip. HERE:
Ray Keene OBE
Global President 
World Memory Sports Council