FOR MEDIA ENQUIRIES: Call the PRESS OFFICE 00447802211587  Chris Day
Alex Mullen (USA) is now the two time World Memory Champion with victory in the Jubilee WMC in Singapore
Please note, as the Chief Arbiter and a number of officials were taken ill towards the end of the championships, senior arbiter Jennifer Goddard has been brought in to process the final 'pink slip' queries from competitors about their scores. If you believe that your published score still needs to be adjusted, please contact us right away so that we can finalise all the results. 
Top 11 Notable Facts from the 2016 WMC are:
17 world records broken in total  – World Records were broken 38 times by 21 Competitors
6 countries broke records – Mongolia (18), China (13), Austria (4), Sweden (1), USA (1) and Germany (1)
Four people broke 3 records each: Munkhshur NARMANDAKH, Huang Yitong, Enkhshur NARMANDAKH, and Ariunsanaa BAYARDALAI
The 1,000 point barrier was broken 3 times with 2 other scores of 998 and 992
World Memory Champion Alex Mullen broke the record for Hour Cards – record is now 1626 cards which is 31+ decks of cards in an hour – less than 2 minutes a deck to memorise
15 minute abstract images was 599 – broken with a 602 by Huang Shenghua which was immediately broken by a score of 622 by Su Zehe China
4 Senior Records broken by Dr Luise Sommer from Austria- who first competed in 2001  (2001, 2002, 2003 and 2004) then took a break for 12 years and competed in the UK Open in 2016
5 Mongolian juniors all broke the 30 min binary numbers with Shijir Erdene Bat Enkh coming on top with 4635 (smashing the old record of 3540)
Emma Andersson from Sweden broke the junior record for Abstract images in 15 minutes  was 355 – now 527
4 Kids broke the hour number records with Yan Jiashuo from China coming on top with 1508 (was 1380) – Jaishou also won the hour cards (1040 cards 20 decks) was 780
Chen Zhengyuan (Kids) from China won both the 15 min Random Words (164 digits) and Spoken Numbers (1 sec) (119 digits)
Congratulations to 91 new International Masters of Memory (IMMs) who have memorised correctly
– 1000 digits in one hour.
– 10 decks of cards in one hour.
– One deck of cards in 2 minutes or less.
Chen Ju Canada
Sri Vyshnavi YARLAGADDA India
Chew Kin Meng Malaysia
Siew Chung Wong Malaysia
Ariunzaya Batbold Mongolia (also new GMM)
Batbileg BATSUREN Mongolia
Munkhbaatar Ganbold Mongolia
Tuguldur Munkhbaatar Mongolia
Ariunsanaa BAYARDALAI Mongolia
Lkhagvadulam ENKHTUYA Mongolia
Namuundari Negi Mongolia
Grace Ng Sin Ping Singapore
Emma Andersson Sweden
Plus 78 amazing new IMMs from China
Top 10 interesting things about WMC 2016 World Records
#1. 17 world records broken in total – World Records were broken 38 times by 21 Competitors
#2. 6 countries broke records – Mongolia (18), China (13), Austria (4), Sweden (1), USA (1) and Germany (1)
#3 Four people broke 3 records each: Munkhshur NARMANDAKH, Huang Yitong, Enkhshur NARMANDAKH, and Ariunsanaa BAYARDALAI
#4 The 1,000 point barrier was broken 3 times with 2 other scores of 998 and 992
#5 World Memory Champion Alex Mullen broke the record for Hour Cards – record is now 1626 cards which is 31+ decks of cards in an hour – less than 2 minutes a deck to memorise
#6 15 minute abstract images was 599 – broken with a 602 by Huang Shenghua which was immediately broken by a score of 622 by Su Zehe China
#7 4 Senior Records broken by Dr Luise Sommer from Austria- who first competed in 2001 (2001, 2003 and 2004) then took a break for 12 years and competed in the UK Open in 2016
#8 5 Mongolian juniors all broke the 30 min binary numbers with Shijir Erdene Bat Enkh coming on top with 4635 (smashing the old record of 3540)
#9 Emma Andersson from Sweden broke the junior record for Abstract images in 15 minutes was 355 – now 527
#10. 4 Kids broke the hour number records with Yan Jiashuo from China coming on top with 1508 (was 1380) – Jaishou also won the hour cards (1040 cards 20 decks) was 780
Bonus Fact
#11 Chen Zhengyuan (Kids) from China won both the 15 min Random Words (164 digits) and Spoken Numbers (1 sec) (119 digits)
Didn't receive you medal?  Click on the image to order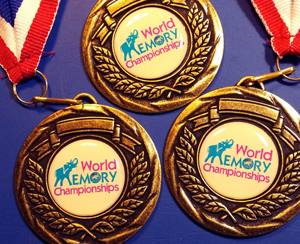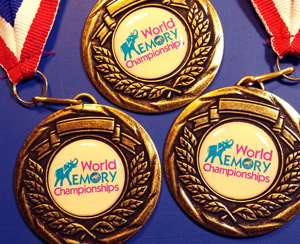 World Memory Championships
| | |
| --- | --- |
| Registration | : 14th Dec 07:00 – 12:30 |
| Open Ceremony | : 14th Dec 14:30 – 18:30 |
| Competition | : 15th – 17th Dec 08:00 – 18:00 |
| Closing Ceremony | : 18th Dec 19:30 – 20:00 |
| VENUE | : Fairmont Singapore |
| REGULATIONS | : World Memory Championships Standard |
| REGISTRATION CLOSING DATE | : 25th November 2016 |
WMC Programme
Date
Time
Events
Memory Time
Recall Time
15 Dec

08:30-09:30
10:00-12:00
14:30-17:30

Name & Faces
Binary Numbers
One Hour Numbers

16 Dec

08:00-09:00
09:30-10:00
10:30-11:00
11:30-12:00
14:30-17:30

Abstract Images
Speed Numbers 1
Speed Numbers 2
Historic / Future Dates
One Hour Cards

15 min
5 min
5 min
5 min
60 min

30 min
15 min
15 min
15 min
120 min

17 Dec

08:00-09:00
09:30-09:45
10:15-10:45
11:15-12:00
13:30-14:00
14:30-15:00

Random Words
Spoken Number 1
Spoken Number 2
Spoken Number 3
Speed Cards 1
Speed Cards 2

15 min
200 sec
300 sec
520 sec
5 min
5 min

40 min
10 min
15 min
25 min
5 min
5 min