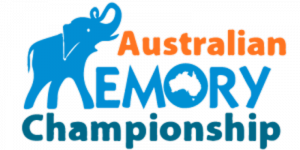 Final preparations are underway for the Australian Memory Championships!
We have 12 amazing competitors this year – 4 experienced and 8 new to memory sports.  the schedule, which includes a list of competitors, for this year's competition as well the WMSC handbook.
Feel free to send me any questions you may have and/or post them on the Australian Memory Sports Team Facebook Group
Competitors:- Please send me a reply email to say that you have received this ok along with your Year of Birth for ranking purposes.
A Big Thank You to our sponsors – Dimension 5 Hub and Mindwerx – and to our team of volunteer Aribters.
Have a great week preparing for the competition and look forward to seeing you on Saturday morning from 9:30am.
Competition starts at 10:00am Sharp!
Memory Prompt if you are re-reading this email on the way to the event:
The Venue is at 10 Dorcas Street (corner St Kilda Road) – plenty of on street parking – Closest Tram stop is #19 War Memorial
The 2016 Australian Open Memory Championship powered byMindwerx draws competitors from all over the country to compete to be named as having the best memory in Australia.
As an 'Open' national competition the event is open to memory athletes from anywhere in the world.
The competition includes memorizing in ten events:
Names and Faces
Binary Numbers
Random Numbers
Abstract Images
Speed Numbers
Historic / Future Dates
Playing Cards
Random Words
Spoken Numbers
Speed Cards
To learn more about the events and watch instructional videos click here .
FYI – a training set of the Top 4 hard to replicate Memorisation and Recall papers (Names and Faces, Abstract Images, Historical Dates and Random Words) [National] is available in the Files section for you to download and practice on if you wish to also join this group https://www.facebook.com/groups/942803112498588
The 2016 Championship will be held 19 & 20th of November in Melbourne at the Dimension 5 Hub 10 Dorcas Street, South Melbourne. Australia.
The Championship is open to competitors of all ages from Australia and overseas – international competitors can win the Open, but not the Australian champion title.
Ten events are held over two days with time restrictions. Competitors are awarded points for each event and the winner with the most points is named the champion.
Participants in the Australian Memory Championship can represent Australia at the 25th World Memory Championship in Singapore between 14th and 18th December 2016.