News Story from The Canadian Press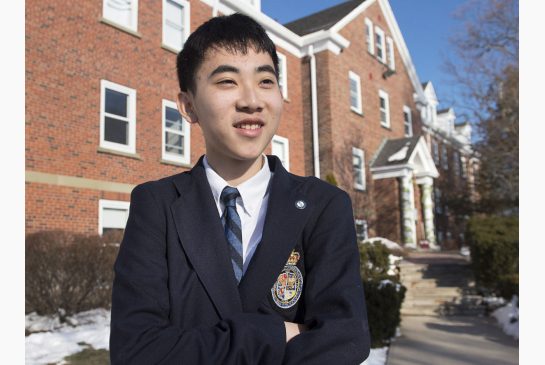 Nova Scotia student Evan Xie memorized more than 1,180 random digits in under an hour at 2015 World Memory Championships in China, awarded International Master of Memory.
Evan Xie, a Grade 10 student at King's-Edgehill School in Windsor, N.S., received an International Master of Memory designation.
By: Robin Levinson King Staff Reporter, Published on Fri Jan 08 2016
For most people, being asked to remember the names and faces of dozens of strangers is a social nightmare.
But for Nova Scotia high school student Evan Xie, it's a sport.
Xie did that and more at the 2015 World Memory Championships in China, where he was awarded the title of International Master of Memory. In order to qualify for that honour, he memorized more than 1,180 random digits in under an hour.
The 16-year-old also memorized 12 decks of randomly shuffled cards in one hour and a single deck of cards in about 32 seconds, one minute and 28 seconds under the time limit.
Xie, who is from eastern China but attends King's-Edgehill boarding school in Windsor, N.S., says his memory is photographic and he also uses rhythm to recall the lengthy list of numbers and suits.
The school says Xie is one of only about 160 people in the world to earn the Master of Memory designation.
The Olympics of memorization, the 2015 World Memory Championships brought nearly 300 memory "athletes" from around the globe together to compete in a decathlon of events that test their ability to recall not just numbers, but faces, dates and words.
The winner — the United State's Alex Mullen — took home almost $40,000 (U.S.) in prize money.
Founded in 1991 under the title "Memoriad," the World Memory Championships was founded by Englishman Tony Buzan, who authored a number of popular books on memory and mnemonics.
Xie's always been gifted in the memory department. When most preschoolers are still figuring out their colours and shapes, Xie was reciting entire storybooks, he said.
"I've had a good memory since I was young," he said. "It's not so hard for me."
But it wasn't until a year and a half ago that Xie decided to turn his gift into a competitive skill, after seeing Grandmaster of Memory Zhou Qiang speak at his school in China.
Xie told him about his knack for memorization, and Qiang encouraged him to compete.
"He said: 'You're a very good person to take part in the championships and be the champion,'" Xie recalls.
This year was Xie's second competition — in 2014, he competed but did not qualify for the international master of memory title. In order to make the cut this year, he says he trained for 10 hours a day in the month leading up to the competition.
He practices the events at home, sifting through decks of cards in his spare time, crossing off each number he has successfully memorized with a tip of a pencil to keep time.
It's tedious and focused work, and requires all of his concentration.
"If somebody will make a noise, I'll break that, and it will take me two or three minutes to find that rhythm again," Xie said.
Zie says in addition to accolades, he hopes being a master of memory will help him prepare for university and improve his English. Although he used to want to study mechanical engineering, his growing memory skills have helped open his mind to other possibilities. He can accomplish whatever he sets his mind to.
"To give myself a goal and finish it is a very good thing for me," he said.