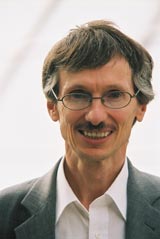 The 19th German Memory Championships 2016 is now taking place on October 7-8th in Freiburg. My special thanks to the University of Freiburg, which is an ideal venue for athletes and visitors memory with your premises and your exhibition.
The memory sportsmen / women have demonstrated in recent years, at which peak performance is a trained memory capable. With over 170 real names in just 15 minutes and more than 1,300 binary digits in 30 minutes, the "average Joe" can only marvel. For these fantastic benefits and a consistent training is in addition to the proper technique of course, necessary. This memory techniques and strategies are not only for gifted and memory Sportsman important each person can only practices less decisively improve his brain.
We all must now be interesting to see how many records this year will fall again and who will take the title of German memory champion in both the adult and the junior claim for themselves.
I wish all participants / inside a good memory Championship with the results that they hope for and for which they have trained long for.