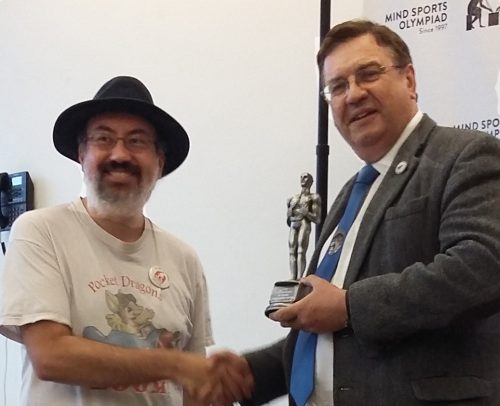 Three times World Memory Champion was recognised by the WMSC  for his many achievements in the mind sport of memory over two decades. The presentation took place at this year's Mind Sport Olympiad at the JW3 venue in Finchley. WMSC General Secretary Chris Day presented Ben with an engraved statuette and spoke about Ben's dedication to the sport over the years. Ben's first memory compaetition was at the MSO so it was fitting that this award should be made there twenty years later.
Ben won the WMC  title in 2004, 2008 and 2009. He is also a Master of Memory.
He held the official world record for memorizing the order of a randomly shuffled 52-card deck, and has memorised a pack in a time of 24.68 seconds on television. This record was beaten in 2010 by German memory athlete and lawyer Simon Reinhard. He is ranked number six in the world ranking list for Memory Sports. Pridmore's victory at the 2009 World Championship was his eighth consecutive memory competition win since coming second at the 2007 World Championship. He is the title holder for the UK Memory Champion for the years 2007-2011 and 2013 and Welsh Open Memory Champion 2009-2012 and 2014.[3]
Besides memory sports he is famous for his mental calculation skills and took part in the Mental Calculation World Cup in 2004, 2006 and 2010. He has also won several medals at the Mind Sports Olympiad including becoming the 2001 World Champion at the ten disciplined mind sport competition the decamentathlon including also chess and reversi.
He also participated in the Memoriad World Mental Olympics in the year 2012 in Antalya and won one gold medal with the title "Memoriad Speed Cards World Memory Champion".
He is thought to have an IQ of 159 putting him in the genius range. He was prominently featured in the music video for DJ Shadow's single "Scale It Back".