The Fifth Italian Open Memory Championships
Personal Reflections by Phil Chambers, Chief Arbiter, World Memory Sports Council.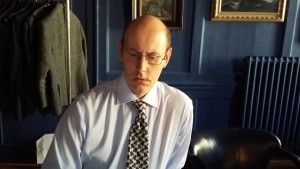 On the weekend of the 18-19 March 2017, competitors from all over Italy gathered for the Italian Open Memory Championships. For this fifth year of the competition, it moved from Rome, famously Cicero's memory playground, to Milan, designer style capital of Europe. Another change this year was the transition from a one-day National format to a more challenging, two-day International standard event.
The chosen venue was a spacious, well-appointed, room with a stage and video wall to display timing and results. Outside of the conference centre, the Ramada Plaza Hotel is an oasis of calm in a busy city with a private garden, ideal for competitors to recharge their mental muscles between the two days of competition in the morning Spring sunshine.
As with all endeavours, the key to successful memory championships is preparation. The competition wasn't just an example of Italian style, but was also efficiently orchestrated and managed. All the papers for the 10 disciplines were prepared well in advance and then checked and double-checked on night before the competition. Competitors too ensured they were fully prepared with the traditional briefing session before card shuffling and a convivial communal dinner.
Anyone who has attended a memory championship is it aware that they almost always overrun. However, with experienced, hard-working arbiters, we were able to keep closely to the schedule with timely, accurate results.
One of the highlights of competitions in Italy is the impressive level of media coverage which memory maestro, Matteo Salvo and his PR team are always able to generate. There were many journalists and TV crews in attendance. In fact, one journalist, Arianna, was so enthusiastic that she had the courage to take part alongside the competitors. Bitten by the memory bug, she even vowed to come back next year with the aim of winning!
Every year the standard of competition increases, this year being no exception. Eight National records were broken including 'Speed Numbers' by Matteo Di Cianni plus 'Binary digits', '30 minute cards' and 'Spoken number' by eventual Champion, Silvio Di Fabio. The 2013 – 2015 Italian champion Mara Brescianini was delighted with a personal-best and new National record of 120 words memorised with no errors in 15 minutes. We gave her dispensation to take her paper home to frame and hang on the wall. Special mention must also be made to, junior star, Paolo Giancola who came fourth overall. He learned memory techniques by assisting Matteo Salvo in his seminars for school students. The competition was rounded off in style with an 'International Master of Memory' qualifying speed cards time of one 1 minute 39.77 seconds by Silvo.
Finally, Sunday evening rang out to Queen's, "We Are The Champions" with medals, certificates and speeches. Emcee, Matteo Salvo explaining, after speed numbers and speed cards we had speed awards.
A great finale to the first half-decade of memory championships in Italy – Here's to the next five years!