A triumph for Global Mental Literacy and a further giant step for restoring planetary intelligence!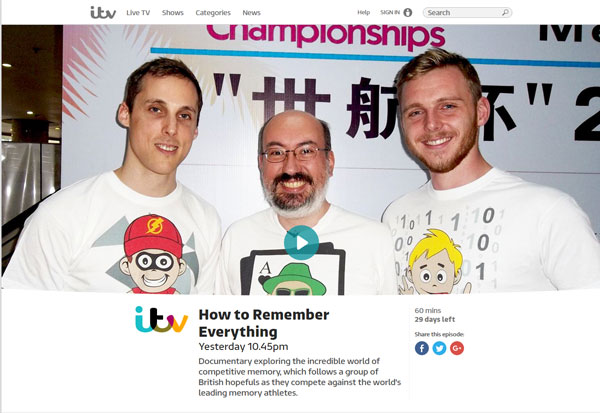 The World Memory Sports Council and the Official World Memory Championships, now in our twenty fifth year, are proud to draw your attention to the hour long ITV documentary screened tonight about the art and science of Memory and the Championships themselves. The link above takes you to the ITV I player where the whole documentary can be viewed free of charge. Commentary is by the famed television personality , renowned for creating the role of Lord Downton from Downton Abbey.
Congratulations to all WMSC supporters and competitors who appeared in the documentary , a red letter day for Memory Sport globally. Especially originator and co founder Tony Buzan, Chief Arbiter Phil Chambers, David Sedgwick, Andy Fong, eight times world Memory Champion Dominic O Brien, Nelson Dellis, Jonas von Essen, Boris Konrad, Florian Delle ,Yanjaa Altansuh and Dr Suhail Chugtai, whose Ilford Apex Centre appeared as the venue for the Official UK Memory Championship!
Thanks and congratulations to everyone.
Informed, passionate, serious , definitive….Memory Sport gloriously endorsed by global mass media in our twenty fifth jubilee year.
Eight times World Memory Champion Dominic O Brien has also been active in London, teaching Memory skills to an eager group of royally connected students from The Gulf region.
World Memory Championships Co-Founder, Professor Tony Buzan, was honoured last month by the award of the Golden Gavel in Washington DC for his outstanding contributions to global communication, of which Memory and Mind Mapping are crucial elements.
In the past few days, Brazil, the Olympic and Paralympic host nation , has enlisted in the WMSC.
Furthermore , our twenty fifth Jubilee World Memory Championship is set for Raffles City, Singapore in December of this year. There will be a substantial prize fund, with a limit of 200 competitors from around the world.
I look forward to seeing many of you there!
Finally, I am more than delighted to announce that your World Memory Sports Council has now secured confirmation of the staging the backing for and the confirmation of the 2017 Twenty Sixth World Memory Championship. Full details will be announced after completion of our forthcoming Jubilee Celebration Twenty Fifth World Championship this year.
And do watch this space for further announcements and exciting new global initiatives!
Ray Keene OBE
International chess Grandmaster.  WMSC President