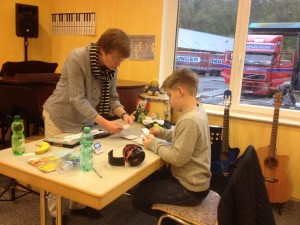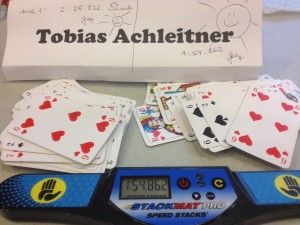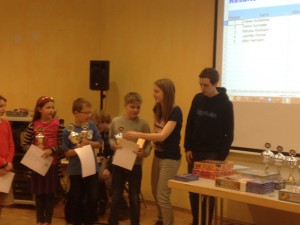 Großartige Leistungen bei der Süddeutschen Meisterschaft in Pfinztal
Pfinzal 23. April 2016. Die Süddeutsche Gedächtnismeisterschaft von MemoryXL diente wieder als optimale Gelegenheiter für Gedächtnissportler aus der südlichen Hälfte Deutschlands ihrem Sport nachzugehen. Anfänger wie Erfahrene kämpften in den Altersklassen Kinder bis 12 Jahre, Junioren 13-17 Jahre und Erwachsene 18+ um die Titel.
Die Aloys-Henhöfer-Schule in Pfinztal ist schon seit Jahren mit einer AG im Gedächtnissport aktiv und war diesmal Austragungsort. Thomas Hirt, Trainer und AG-Leiter, ermöglichte MemoryXL die Austragung, dafür unsere Dank.
Dass es eine tolle Umbegung war beweisen auch die Ergebnisse. So konnte der Sieger bei den Kindern, Tobias Achleitner aus Bayern, sogar einen Weltrekord seiner Altersklasse aufstellen! Trotz seiner 11 Jahre ist er schon ein Routinier im Sport und nutzte seine Erfahrung in der Disziplin "Wörter merken". In nur fünf Minuten merkte er sich 82 zufällige Wörter in der richtigen Reihenfolge und brach den bestehenden Rekord um zwei Begriffe. Herzlichen Glückwunsch! Hinter ihm in der Gesamtwertung bei den Kindern landeten Fenno Schrader und Ranuka Roßbach.
Bei den Junioren zeigten die Sportlerinnen ihren männlichen Konkurrenten wo es lang geht: Annika Hirt siegte vor Michaela Ernst. Platz 3 belegte Florian Hirt.
Auf Rekordjagd ging auch Christian Schäfer, einer der weltbesten Gedächtnissportler. Der Lehramtsstudent aus Würzburg ist 2014 als Wettkönig bei Wetten Dass bekannt geworden und konnte diesmal mit einem deutlichen Vorsprung gewinnen und daher auch etwas riskieren: So merkte er sich 1022 Binärzahlen, also eine Folge zufälliger Einsen und Nullen, in nur fünf Minuten. Der Weltrekord liegt bei 1080 Ziffern und ist sicher in Christians Zielvorrichtung für die nächsten Wettkämpfe. In Pfinztal siegte er vor der Newcomerin Susanne Hippauf, die bei ihrer ersten Teilnahme gleich Rang 2 belegte, und Gerhard Kuhn.
Pfinzal April 23, 2016.
Süddeutsche Memory Championship MemoryXL again served as optimal for memory Gelegenheiter athletes from the southern half of Germany to pursue their sport. Beginners and experienced fighting in the ages Children under 12, juniors 13-17 years and adults 18+ to the title.
The Aloys-Henhöfer school in Pfinztal has for years been active with an AG in mind sports and this time was the venue. Thomas Hirt, coach and group leader, MemoryXL allowed to host, for our gratitude.
That it was a great Umbegung prove the results. So was the winner in the children, Tobias Achleitner from Bavaria, even set a world record for his age group! Despite his 11 years, he is already a veteran in the sport and used his experience in the discipline "memorize words". In five minutes he noticed about 82 random words in the correct order and broke the existing record by two terms. Congratulations! Behind him in the overall standings with the children landed Fenno Schrader and Ranuka Rossbach.
In the junior sportsmen her male competitors showed where to go: Annika Hirt won ahead of Michaela Ernst. Place 3 occupied Florian Hirt.
On record hunt went Christian Schäfer, one of the world's top memory sports. The student teacher from Würzburg 2014 become known as Bet king at Wetten Dass and could win this time with a clear lead and therefore risking something: He memorized 1022 binary numbers, ie a sequence of random ones and zeros, in just five minutes. The world record is 1080 points and is safe in Christian's target device for the next competitions. In Pfinztal he won ahead of newcomer Susanne Hippauf equal rank 2 finish at their first appearance, and Gerhard Kuhn.