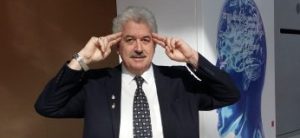 He's back!
Dominic O'Brien started working on his memory at age 30 in 1987. He competed in – and won  – the very first World Memory Championship in 1991 and made headlines around the world. Now, at sixty, and not having competed for five years, the question that everyone is asking is "has he still got it? Or does age make a difference to memory?"
Dominic has taken the brave step of risking his reputation by competing in the Pan European and UK Memory Championships, on the 16th and 17th of August at London's prestigious Devonshire Club.  He is determined to put to rest the enduring myth that we automatically lose our memories when we get older.
Dominic is on a mission. He believes that we all have far better memories than we think we have, no matter what age we are.  All we lack are the simple techniques that the memory competitors use, and a bit of practice.  Having taught schoolchildren around the country how to be better at exams by using these techniques, he now wants to inspire the older generation. Far from losing their marbles, they still have the ability to have an amazing memory, if only they give it a chance.
"With every physical or mental skill, if we don't use it, we lose it" says Dominic.  " With computers, smart phones, and tablet devices to memorise everything for us, we are losing the skill of memory. But it is not too late!"

"It is not age that makes the difference" believes Dominic "but how you challenge and stretch your brain every day." And the best way to do this is to take part in the competitive mind sport of memory.
In fact none of the competitors taking part were born with particularly good memories. For all of them, this is a skill they have developed by learning the techniques and doing lots of practice – just like any other sport
Since 1991 every memory competition has followed the same format of ten memory disciplines which test the ability of the competitors to commit to memory names and faces, random words, spoken number, playing card marathon, binary numbers and speed cards. However, these days the sport is attracting a new type of competitor.
There are many professions where the ability to memorise is essential. With taxi drivers, it can take them three years to learn the 'Knowledge' and be able to remember hundreds of different routes through London. How much easier could that be when using the techniques used by memory competitors?
Hotel and catering staff need to be good at remembering names and faces and lists of drinks or meals. Journalists, teachers, medical students, tour guides and even police, are now recognising that, to be the best in their profession, they need to be learning and practising memory techniques.
Competitors at this years' Pan European and UK Memory Championships will reflect the growing number of professions in which memory ability is everything. Taxi Drivers will be competing against teachers. Waiters will be testing their memory alongside journalists and in the middle of it, Dominic O'Brien will be proving that you have a far better brain than you could believe, if only you got up off the sofa, switched off the television, and became a mental athlete.
Not only that, but your memory can be worth money. Winners at the competition in August will be playing for their share of a prize fund of £2,000.
In addition, another past memory competitor and three times World Memory Champion, Ben Pridmore will be honoured with a Lifetime Achievement Award.
The UK Open Memory Championships, have become the warm up event to the World Memory Championships taking place this year in Shenzhen, China on December 8th to 12th.
This is the most comprehensive test of competitive memory on the planet.  Thirty countries, Three long days, ten memory disciplines and one competitor crowned as the World Memory Champion.
If you fancy your memory skills and want to put them to the test, then registration for both events is now open for competitors.