World Memory Championships 2015
We are happy to announce that the 24th World Memory Championship will be again hosted in China in December 2015. The planned venue will be in Sichuan, the most legendary and historical place of China. Please click here for more information.
Jonas von Essen crowned as 2014 World Memory Champion
Jonas von Essen from Sweden defended his World Memory Champion title with 8189 Championships points in the 23rd World Memory Championships, which took place over the three days of Thursday December 11th to Saturday December 13th in the Baohua Harbourview Hotel, Haikou, China. Simon Reinhard from Germany won the Silver Medal with 7118 and Sengesamdan Ulziihkutag won the Bronze Medal with 6710. A record 169 Mental Athletes from 19 countries arrived in Haikou for the 23rd World Memory Championships. These countries include Algeria, Denmark, England, Germany, Hong Kong, India, Indonesia, Japan, Malaysia, Mongolia, Philppines, Russia, Singapore, South Korea, Ukraine, USA, Uzbekistan, Sweden including the World Memory Champion Jonas von Essen, and the host country China. During these three days, athletes competed against each other over 10 disciplines: Names and Faces, Binary Numbers, Hour Numbers, Abstract Images, Speed Numbers, Historic Dates, Hour Cards, Random Words, Spoken Numbers, and Speed Cards. This year, a new kids world record in Hour Cards is created by a 11-year-old boy, Chen Zeqi. He memorized 15 decks of playing cards in one hour. Country Ranking:
To view all the scores by points click here – http://www.world-memory-statistics.com/competition.php?id=wmc2014
---
New National Memory Sports Councils
Please contact our Deputy General Secretary, Angel Lai, if you would like to get in touch with any of the National Memory Sports Council.
---
WMSC Announcement
To the worldwide Community of Memory Sports: The World Memory Sports Council hereby invites applications for confirmation or appointment of all National Memory Sports Councils (NMSC) 1)        To be appointed or reappointed as National Memory Sports Council for any particular nation, applicants must obtain the approval by WMSC and confirmation by the WMC rights holders – namely Tony Buzan and Raymond Keene OBE. 2)        The NMSC has the power of decision as to who should stage the national memory championship, though not necessarily the obligation to organise. The task is to make sure it is organised. 3)        The licence is for a five year period after one year of probation. 4)        The NMSC has the overriding obligation to nurture memory sport, via events, publicity, publications, media, press and all other forms, liaison with and identification of sponsors, co-operation with like-minded educational groups and government channels where applicable, see also 8) below. 5)        The obligation to advise and help other memory groups in the region, especially start up organisations. 6)        To uphold the authority of WMSC and seek to make sure that all memory events are properly affiliated and if possible officially ranked. 7)        To protect and defend the integrity of WMSC personal titles and events and to liaise closely with WMSC at all times. 8)        The task of seeking new sponsors and/or government support for memory events, in particular the World Memory Championship itself. 9)        To demonstrate neutrality as the NMSC and to avoid using the position and honour simply to disadvantage other memory sport groups and to ensure that inappropriate rivalities amongst competing commercial interests do not damage the sport. 10)     Applications must be received by email to Raymond Keene OBE by November 30 2014 latest to rdkobe@aol.com. Please click here for the full document.
---
UK Open Memory Championships 2014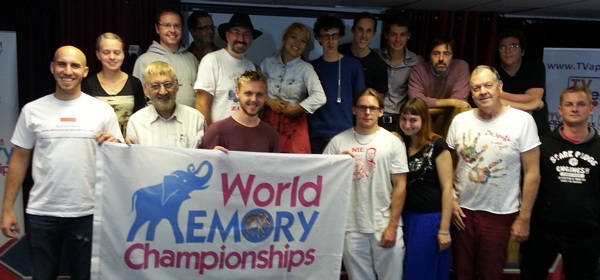 Congratulations to everyone who made the UK Open Memory Championships such  a success on August 21st and 22nd in the Apex Conference Centre in Ilford, Essex. A big thank you to our sponsors TV Apex and  Dr Suhail Chughtai who transmitted the event live around the world.  An edited version will be available for viewing on www.tvapex.com  To view the full scores UK_Open_2014_all Scores for web more details on upcoming Championships
---
Jonas von Essen crowned as 2013 World Memory Champion
The World Memory Championships have now finished with Sweden's Jonas von Essen being crowned as the new World Memory Champion with 8534 Championships points. The competition took place over the three days of Saturday November 30th to Monday December 2nd in the Croydon Conference Centre,  Croydon, South London. Former World Memory Champion Johannes Mallow won Silver Medal with 8022 and the Bronze was won by Christian Schafer IGM with 6980
Watch competition videos – see the links on the NEWS PAGE
 To view all the scores by points click here  - FINAL SCORES and RANKINGS
To view the rankings by Country - Country Rankings To view a slideshow of pictures from the Championships – click here To order photographs from the Official Photographer click here A record 32 countries and 120 Mental Athletes and Arbiters arrived in Croydon for the 22nd World Memory Championships. These include Canada, Indonesia,  Ireland,  Lithuania,  Norway,  Pakistan,  Slovakia,  Spain, Turkey, Ukraine,  Wales,  Finland,  Vietnam,  Denmark,  Hong Kong,  Uzbekistan,  South Korea,  Italy,  Japan, Algeria, Poland,  USA,  India,  Mongolia, Sweden,   China, Philippines,  Germany – including World Memory Champion Johannes Mallow, and the host country England. On Friday 29th of November, the day before the Championships, the Mayor of Croydon, Councillor Yvette Hopley accompanied by Matthew Sims, Chief Executive of Croydon Business Improvement District (BID) Ltd,  invited all the competitors and Arbiters to the Council Chamber of Croydon Town Hall for our Opening Flag Ceremony.  VIP Guests also included  Dominic OBrien (eight times World Memory Champion), Phil Chambers (Chief Arbiter) and joint founder Raymond Keene OBE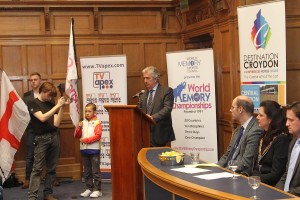 Each country nominated a Flag Bearer to lead their team and present them to the Mayor who gave each everyone a gift of a Crocus – the flower historically associated with the town. The competition commenced at 9.30am on Saturday November 30th with a speech from the founder of the Mind Sport of Memory, Tony Buzan. On Day One of the Championships, there are three memory disciplines – Names and Faces, Binary Numbers and One hour Numbers.  All the results will be published shortly on this site. Download 2013_WMC_Press_Pack Full WMC Competition Schedule and Map WMC PRESS RELEASE So what drives competitors to pay to travel from the furthest points of the globe to compete, even when there is no prize money? Why would they put themselves through such an exhausting and intensive three days of memorisation and recall? Because the sport is practiced in exactly the same way around the world, and is always independently arbited, it has been possible to have a World Ranking table where competitors can compare their performance with the best in the world over the past two decades. The competitor who obtains the best cumulative score over the ten disciplines of the competition can justifiably be crowned as the World Memory Champion.